The Key to Healthcare Emergency Management: Facility Managers
Did you know that the average hospital relies on federal reimbursements for about half of their revenue? To keep receiving that revenue, hospitals must comply with rules made by the Center for Medicaid and Medicare Services (CMS). So when those rules change, the healthcare industry should pay careful attention.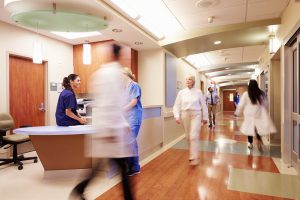 One of the most significant rule changes regarding healthcare emergency management happened just last year. The new rules were published under the name, Emergency Preparedness Requirements for Medicare and Medicaid Participating Providers and Suppliers.
The new rules are said to address "three key essentials."
Safeguard human resources

Maintain business continuity

Protect physical resources
It so happens that facility managers play a critical role in each of these "key essentials."
The importance of the facility manager in healthcare emergency preparedness should come as no surprise. Previously, the National Fire Protection Agency (NFPA), defined the seven functions most critical to a healthcare facility's ability to continue providing care. And the facility manager is also integral to maintaining those "seven critical functions."
The bottom line is this: The emergency manager's ability to leverage facility management knowledge and expertise will determine success or failure in an emergency response.
To shed light on what role the facility manager plays in emergency management, we've assembled a white paper that outlines:
Three types of healthcare facility emergencies

The seven critical functions of every healthcare facility

The "all-hazards approach" to

healthcare emergency management

Why the facility manager is essential to emergency planning
Bypass Communication Issues with Better Information Access
One of the points this paper brings up is the communication challenges that many healthcare facilities face during emergencies. With no internet, phones or radio communication, it's difficult to coordinate an emergency response. But with online and offline capabilities provided by a cloud-based solution and easy access granted by a mobile application, emergency managers can bypass these communication limitations.
Take Control of Facility Operations with Instant Access to Building Information
Request Demo