Good Times at IFMA World Workplace
While IFMA World Workplace may be in the rear-view mirror, we've had more time to reflect and review what we learned…
ARC Facilities Regional Sales Manager, Sarah Weber, shared her impressions of IFMA World Workplace in Nashville after attending as part of our team staffing our tradeshow booth.
"I felt like we had a lot of meaningful dialogues about retirements, labor shortages, recruiting, post-pandemic facility life and adapting to people returning (or not returning) to the physical workplace" she said.
What generated attention were the as-builts and other paper documents scattered on the floor of the ARC Facilities booth.
"People would walk by, look down, pause, and give us that 'oh, that looks familiar look', said Sarah. "The scattered papers were a great conversation starter, which lead to discussions about issues common at many facilities like how to improve access to building information."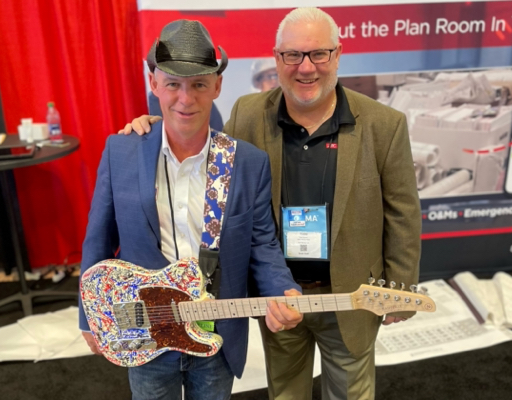 Also popular were the fun, fabulous ARC Facilities sunglasses which (we like to think) enable facility managers to clearly see how and where they can use our facility management solution to help bridge institutional knowledge gaps between retiring workers and new hires.
Being that Nashville is Music City, Facilithon's Jim Zirbel and our own Todd Moore posed with a cool autographed electric guitar from Nashville Guitar Works. As Jim explained, "I went to Nashville Guitar Works and bought a hot Telecaster, white with a tortoise shell pickguard. I had magic markers in my backpack. I picked up a stand and placed it on one of our event tables. Worked. Everyone who came signed it." Jim's goal is to auction off the guitar to raise funds for Facilithon, a non-profit dedicated to educating the next generation of facility managers.
Finally, Mike Petrusky, the host of the Workplace Innovator Podcast, shared his top 5 IFMA World Workplace takeaways, which included:
Say goodbye to assigned seats and hello to office neighborhoods
Space planning is becoming more dynamic
We'll think of the workplace as a metaverse
Leaders will focus on more purposeful workplace design
Sustainability will be crucial to the future of work
Looking forward to see y'all at the next big FM gathering.
Take Control of Facility Operations with Instant Access to Building Information
Request Demo