IFMA Boston's Holiday Gala Benefit
On December 6th, ARC attended IFMA Boston's Holiday Gala at Empire Restaurant and Lounge as a Tang Dynasty sponsor. The gala was held by IFMA's Boston chapter to connect industry professionals and raise funds for Boston Medical's SPARK Center—a medical facility specially equipped to support high-risk children and their families.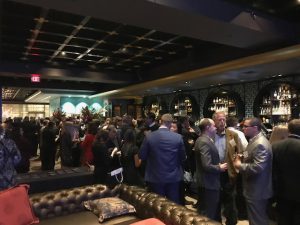 The SPARK Center's mission is "to help Boston's highest-risk children to build brighter tomorrows." According to their website, "SPARK makes long-term investments in fragile children—helping them to believe in themselves, make healthy choices, cope with emotional problems, achieve in school and gain success as adults."
"ARC is proud to be a part of the IFMA community and in supporting an important cause like SPARK," said Francine Crowley, Northeast Region Facility Management Solutions consultant for ARC, who attended the event.
Other sponsors included Liberty Mutual, Dacon Construction, and the New England Real Estate Journal.
Just a month prior, ARC exhibited at IFMA World Workplace in Houston. Through our ongoing association with IFMA, we hope to continue creating meaningful relationships and making an impact for our customers and communities in facility management.
The next stop for IFMA and ARC will be our booth at the 2018 version of IFMA Facilities Fusion in Chicago. Hope to see you there!
Take Control of Facility Operations with Instant Access to Building Information
Request Demo