ARC Facilities Product Updates and Changes
2023 Enhancements for improved workflow and information access
It's a new year and our team has been working hard to help you start off strong. We've put together some fantastic new updates and improvements to our platform based on your comments, suggestions, and feedback.
While each organization has different challenges and needs, these updates are the direct result of feedback received by our Customer Success team while working in the field with you.
Here are the enhancements you can expect to see the next time you sign in.
Drag & Drop Upload in Folders & Files and Compliance
In app viewing of PDF and Microsoft Office Files
QR Codes on PDF Forms
QR Codes on PINs
Improved user experience and workflow for PIN creation, notes, and comments.
Drag & Drop Upload
You can now drag-n-drop both files and folders to upload your content.
Upload an entire file structure in a single action, or upload a single document to the Folders & Files module.
The Healthcare Compliance module also now supports drag-n-drop, making it even easier to upload and store those inspection reports and maintenance logs.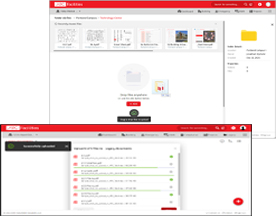 ---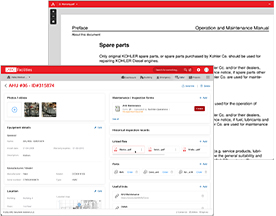 In-App Viewing of PDF and Microsoft Office Files
Throughout the application, whether attached to a Pin, Equipment, or Compliance record, you can now simply click to view your attached PDF or Microsoft Office file.
---
QR Codes on PDF Forms
Attaching QR codes, PINs and PDF Forms has been our most requested enhancements. This simple, but powerful addition lets you now quickly open a PIN associated to a conference room or mechanical room and see everything inside it, or connect to all the related inspection or procedure forms.
Connecting directly to a form lets you scan a QR code and be taken directly to a form to be filled, without having to first open equipment or a pin. Useful for completing safety checks, custodial logs and more.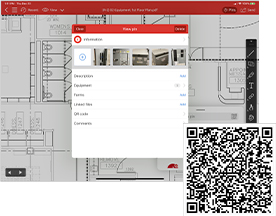 ---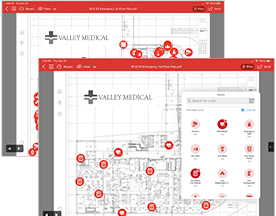 On the mobile devices, we've added a few more features.
Improved PIN Menu
We've changed the PIN menu to improve the viewable area on the documents. Using the option at the top of the screen, you can now show/hide the pin menu, and it can be resized as required.
---
Comments and Notes combined
Comments and Notes associated with PINS or Equipment have been merged together, into a more familiar messages styled view.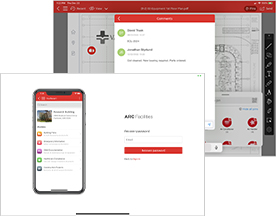 ---
Password Reset and Other Improvements
Lastly, our team has improved the background synchronization of files, along with a few other performance improvements and simplified the workflow for resetting your password from a mobile device.
---
Facilities, whether they're brand new or 100+ years old, are increasingly complex and sophisticated. There are so many moving parts, changing situations, and pieces of information needed at any given time for teams to get their work done that it's difficult to imagine how individuals can rely on memory for equipment and building details. To aid in sharing, refreshing, and updating legacy information among multiple stakeholders, we're focusing on ways to make our mobile platform the ultimate facility information resource. If you have questions, our customer success team is happy to help. Send them a note at customersuccess@arcfacilities.com. If you're not already a customer, see how the app works here.
Take Control of Facility Operations with Instant Access to Building Information
Request Demo