A Profile of Sarah Speron
Passionate About Beautiful Buildings & Creative Campus Facility Management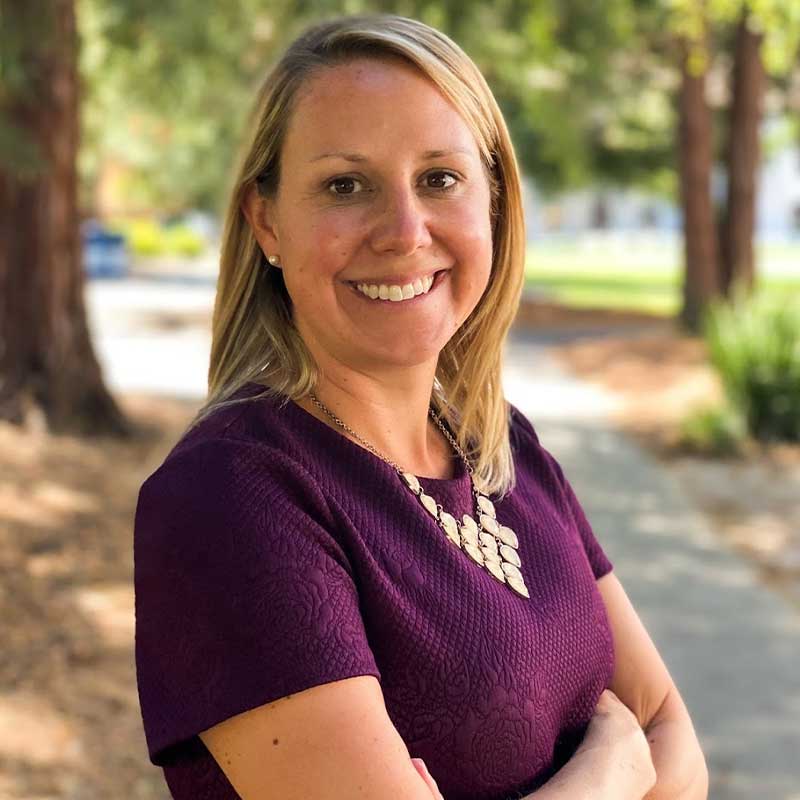 Sarah Speron
Vice President of Facilities
Saint Mary's College of California
Sarah Speron, the Vice President of Facilities at Saint Mary's College of California, likes the creative side of engineering and the creativity of problem-solving.
"There are so many variables in managing facility projects," said Sarah. "Life doesn't always allow you to go straight there, so you've got to improvise, and move quickly, while staying focused."
A graduate of Purdue University who studied industrial engineering, Sarah wound up in Northern California when her husband was transferred for his job.
"I'd driven by Saint Mary's many times and was drawn to the idyllic setting and the Spanish Mission architecture," said Sarah. "When a facility management position was posted, I went down and applied. I was confident I was a good fit because of my engineering, logistics, and project management background and was offered a position."
Managing a 100+ year-old campus is not without its quirks with underground tunnels, called the catacombs by students, connecting buildings. All sorts of unusual things have been found, like chandeliers, buried pools, and amazing antique furniture.
"You open up a wall and you never know what's behind it," she said.
Sarah oversees a 30-person team that covers 1 million square feet of facilities. While custodial services are outsourced, teams are always active. Spring means commencement and special events. But emergencies and emergency responsiveness are always on Sarah's radar.
"I worry about our aging infrastructure," she said. "If there's a break in the main water line, that takes out the whole campus. We're always digging and finding crazy things not found on any drawings."
She is also working to capture important institutional memory as the workforce changes.
"Right now, there's a guy with 38 years of experience who's about to retire," said Sarah. "What are we going to do when something breaks down and he's not there to answer our questions?"
Currently, there are positions Sarah is seeking to fill on her team. So far, no women are applying.
"For women, there are so many opportunities in facilities. I urge women to take the chance and give facilities a try. You miss every shot you don't take," said Sarah.
Sarah is in the process of documenting procedures and plans, so her team knows how and where to find important facility details.
For the most part, life on campus is sweet. Sarah can bring her four young daughters to work, and they get to see what it takes to manage a team and oversee campus safety, security, and special events.
"Even though we're not far from San Francisco or Oakland, you really feel like you're in the middle of nature here with 400 total acres to maintain," said Sarah. "We have coyotes, rattlesnakes, and wild turkeys who like to stroll inside our buildings!"
Spring is commencement time and festivities will be in person for the first time since the pandemic. At Saint Mary's, families can rent small plots of land on campus for parties and celebrate together.
Sarah and her team try to get a lot done during the summer, but there's never a day off in facilities. When you least expect it, something happens, which requires teamwork and coordination.
"I like to challenge our team – particularly when someone says we've always done it this way. I want to help them embrace change, be a part of the conversation, and engage in ways to do things together," said Sarah.
A member of APPA, Sarah has developed a passion for campus facility management. "Every day, I get to look at beautiful buildings. Unfortunately, when someone says 'facility manager,' they only think of the repair side. They don't realize the range of things we do and see. I think anyone with a passion for architecture and structures will appreciate what facility management means," she said.
Want to learn about more inspiring Female Leaders in Facilities Management? We invite you to Follow us on Linkedin and follow our Women in Facilities Series.
Take Control of Facility Operations with Instant Access to Building Information
Request Demo