A Profile of Samantha Howell
HVAC Problem-Solver & Educator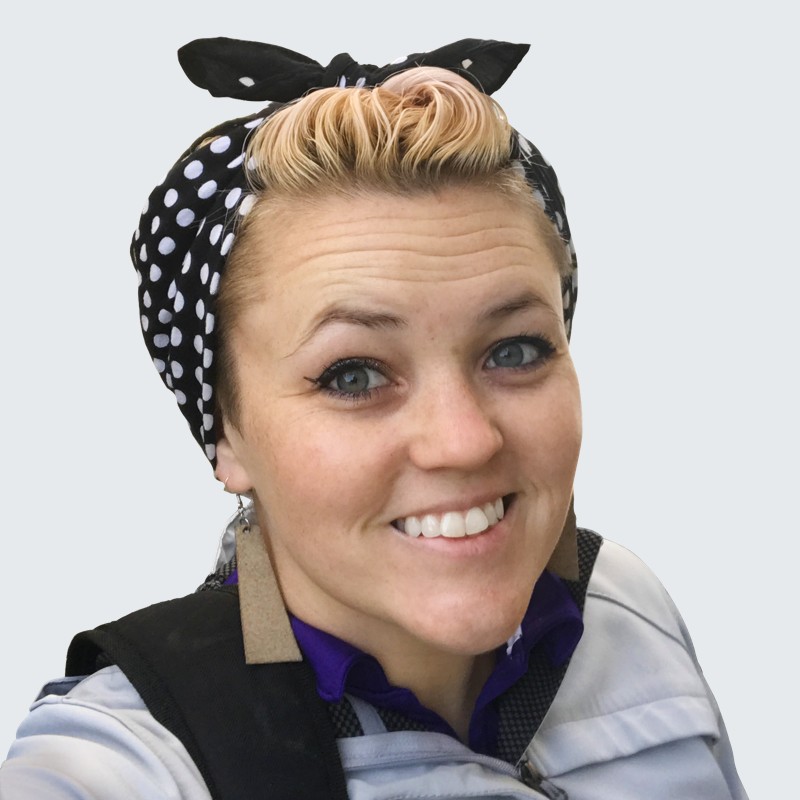 Samantha Howell
Business Development Director
EMCOR Services Fagan
Samantha Howell is a Business Development Director for EMCOR Services Fagan, a contracting company that focuses on HVAC, energy, maintenance, and plumbing services for facilities, based in Kansas City, Missouri.
Howell grew up around construction (and she can drive a tractor), but it never occurred to her to get into that industry because there weren't people in her life encouraging women to get into the trades. "My family wanted me to go to college," she said.
She'd been in a challenging work situation and armed with a BA in Business from Wichita State University, and through a combination of persistence, fate, and luck found her niche: helping facilities teams solve equipment installation, maintenance, and sustainability issues.
"My mantra has always been 'you find your people."
Howell sees herself as a problem-solver. "I'm enjoying the business and I'm surprised that it fits so well," she said.
"Not everyone is an expert in HVAC. So, it's less about the technical turning of the wrench and more about increasing HVAC performance and energy savings for their buildings," she said. "For me, it's all about talking to customers in the boiler room over the sound of pipes and helping customers create better environments for people."
Most everyone agrees that 2020 was a tough year for facilities. Maintenance staff were all overworked, buildings were shut down, but facilities had to go to work every day.
"We're focusing on creating resiliency and energy efficiency in buildings, and providing technical expertise for facility professionals," she said.
Howell advises facilities teams on technology, including using sensors in the ductwork to detect leaks and integrating lighting into control systems. While sick building syndrome is a well-known issue, facility teams can do more to manage maintenance costs through building management systems, and computer-based control systems installed in buildings that control and monitor the building's mechanical and electrical equipment.
One issue that keeps popping up is the current labor and training shortage impacting so many industries, so Howell's company provides on-site training at facilities.
She's seen how retiring facility professionals walk away with years of institutional knowledge and appreciates the challenges of attracting a new generation of professionals, but she's also observed how some veteran professionals keep their jobs by keeping their knowledge a secret.
A "typical day" for Samantha includes multiple and comprehensive customer site visits. She advises equipment audits to review maintenance for aging equipment.
"Maintenance is super important and often gets overlooked because facilities are always putting out fires," she explained.
"We're telling folks to quit putting band-aids on aging equipment and we've been talking up the impact of R22," she said.
According to the Environmental Protection Agency (EPA), R-22 is a refrigerant that is often used in air-conditioning equipment. Because R-22 depletes the ozone layer, production and import was further limited in 2010. In 2020, R-22 will no longer be produced or imported. After 2020, only recovered, recycled, or reclaimed supplies of R-22 will be available. The production (not use) of R-22 is being phased out. You are not required to stop using R-22 air conditioners nor to replace existing equipment. The phaseout period provides time to switch to ozone-friendly refrigerants when you normally would replace your air conditioner. In the future, R-22 supplies will be more limited and costs to service equipment with R-22 may rise.
Energy efficiency, another important issue, which has been embraced by both coasts, has been slow to reach the Midwest U.S. because power is still relatively cheap in that part of the country. So, Howell has been educating her customers, who are gradually seeing its importance and impact on their facilities.
To keep on top of industry best practices and connect with other women in the building trades, Howell is involved in BOMA, IFMA, Kansas City Manufacturers Network, Women in Mission Critical operations (WIMCO), and the Kansas City Industrial Council.
While the HVAC industry is still pretty much male-dominated, Howell was pleased to see the company hire its first female apprentice.
Though her days are filled with discussions about chiller replacements, Howell finds time to chill out with her family who enjoys fishing, road trips, and collecting and restoring classic Chevy trucks.
Want to learn about more inspiring Female Leaders in Facilities Management? We invite you to Follow us on Linkedin and follow our Women in Facilities Series.
Take Control of Facility Operations with Instant Access to Building Information
Request Demo