A Profile of Amanda Swanson
Warmth and Caring from Red Wing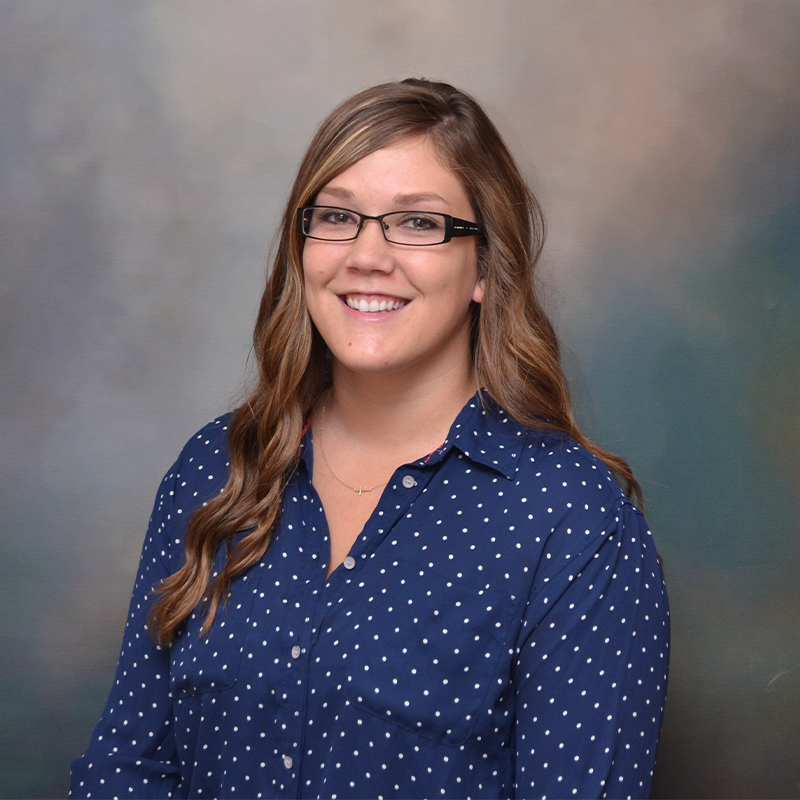 Amanda Swanson
Facilities Operations Supervisor
Mayo Clinic Health System
Shoveling snow at the crack of dawn in Minnesota takes a certain kind of dedication, sense of responsibility and work ethic, which Amanda Swanson, the Facilities Operations Supervisor at Mayo Clinic Health System has been delivering since high school.
"I'm not the typical millennial," said Amanda. She started with Mayo Clinic just three days after her 16th birthday.
"I was hired to shovel snow and clean the clinic after hours," she said. "I'd punch in at 5 am, go to basketball practice at 6 am, go to school, then come back to clean the clinic in the evening. I also worked summers, holidays, and during college."
Originally interested in pursuing nursing, she became a CNA, while also doing housekeeping at the clinic. When a facility position opened, she seized the opportunity. Later she earned degrees in human resources and business administration.
Friendly, upbeat, and fun, Amanda laughs easily while telling her story, inquiring about the weather in Portland. She joked that 35 is considered t-shirt weather in Minnesota.
She has the good fortune of working closely with about 50 content experts in her organization she can call on for questions about everything from building automation to life safety codes, as she is on the go all day long, starting with morning staff meetings.
Having content experts easily accessible helps with day-to-day operations and Joint Commission inspections.
The day is punctuated with environment of care meetings in which safety concerns for patients, visitors, or staff are addressed. Then there are regular water management and construction meetings and integration plans for Southeastern Minnesota Mayo Clinic Health System sites with Rochester.
With just six facility operations team members covering 198,000 square feet, Amanda runs a lean staff, so teamwork and information sharing are key factors in making Mayo operate smoothly.
Another concern is retirement. A senior team member just retired after 50 years with the hospital. Fortunately, Amanda is a big believer in educational sessions and getting organized, so she's working on custom O&M manuals or cheat sheets for emergencies and new staff. She's also shooting educational videos about equipment like emergency generators.
Implementing technology is a goal for Amanda to help improve productivity. All her staff have iPads, which they're getting used to using. Amanda and her team are seeking real-time updates and answers, as well as improved customer service and satisfaction.
She's working on writing "everything" down, but it's challenging to keep up as construction or remodels seem to be occurring everywhere.
"We're getting better at learning from each other and collaborating to make the best decisions for the needs of the patients. For women seeking careers in healthcare facility management, I say don't be afraid to ask questions. We can't be experts on everything."
Working in a hectic hospital environment keeps Amanda busy, but amidst COVID-19, she also had a baby. She and her husband were expecting the hospital room to resemble a revolving door where family, friends, and hospital coworkers met the new baby. Unfortunately, due to hospital restrictions, her husband was the only one allowed in the room. Now, two-year-old Lincoln is happy and healthy and goes to daycare.
One mission Amanda believes strongly in is giving back. In her spare time, she's involved in ASHE and is the Vice President of the Minnesota Health Care Engineers Association's Southern Chapter.
"Healthcare has been good to me. It's all I've ever known" she said. "I love it."
Want to learn about more inspiring Female Leaders in Facilities Management? We invite you to Follow us on Linkedin and follow our Women in Facilities Series.
Take Control of Facility Operations with Instant Access to Building Information
Request Demo