COVID-19 Spending Freeze? Not with These Three Risk Areas! Why Now is the Time to Invest in Technology.
The Pandemic is adding strain in all departments. Facilities are no exception. The financial and operational stress caused by COVID-19 is unprecedented, creating several critical risks to hospital facilities including:
Risk to Patient Care and Staff Safety
Risk of Cost Overruns both Administrative and Unbudgeted
Facility management teams are struggling as they deal with mandatory furloughs, quarantines and infections. Many hospitals are losing team members to quarantine and infection.
These situations demonstrate how important it is that organizations reduce dependence on key people for critical information. Consider how your organization would be impacted if the director of facilities or a portion of the facilities staff suddenly had to quarantine or became infected. Could the organization continue to operate safely? How would the remaining staff deal with the increased workload? Thinking "it won't happen to me" is wishful and dangerous.
Having instant access to information and productivity improvement tools that drive efficiency are essential to keeping an organization operating.
Is Going Mobile the Solution?
Consider how having mobile access to facilities information from anywhere could improve the productivity of your facilities team. Most plan rooms are not large enough to adhere to social distancing guidelines while enabling teams to gather needed documents. And when staff members are working remotely, how are they to access files which are only available on a shared desktop?
Keeping critical facilities, environment of care, life safety, and emergency management information in a secure, cloud-based system means your staff works more efficiently and safely, even when teams are working remotely.
Facilities professionals focus on providing a safe care environment of the highest quality and value to the patient, staff and visitors. But keeping that environment safe by manually tracking thousands of pieces of equipment is not only exhausting and stressful, but prone to mistakes. These mistakes can be dangerous and costly, and potentially jeopardize compliance status and CMS reimbursements.
So,
what's a facilities team to do in order to avoid such mistakes?
The time a technician spends maintaining an air handler or adjusting a negative pressure space is well spent. But time spent looking for information to perform a task, then creating, copying, and filing paperwork into a compliance binder, is an unnecessary administrative burden.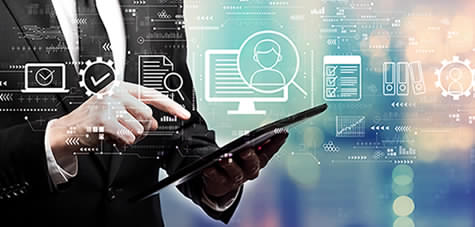 But when technology and automation are used, these same facility maintenance management tasks can be completed faster, leaving the administrative work to be completed instantly and automatically and without human involvement. This allows your team to focus on ensuring a safe care environment. Additionally, electronic systems can alert staff as to when critical inspections or maintenance are pending or overdue, providing visibility and peace of mind, while ensuring that nothing gets missed.
Finally, the financial impact of COVID-19 has been devastating for many healthcare organizations. Yet many continue with time-consuming legacy processes and systems filled with inefficiency and cost.
Technicians spend countless hours preparing and maintaining paper documentation. Administrators, managers, and FM directors follow up, spending even more hours printing, copying, organizing, and carefully placing the records into binders. Hospitals often purchase expensive pre-printed binders to organize compliance records and reference books to review codes. It's 2021 and technology is at our fingertips, yet binders are still being used.
This is a costly, inefficient, paper-based process, with no automation, error checking, or executive visibility. Administrators, technicians and FM directors can easily spend upwards of 20, 30 or more hours a month organizing the records into the binders. In fact, some hospitals even have full time staff dedicated to the task. Old records get removed, new ones added, and everything must be checked for accuracy.
Things to Check:
If an issue was found during an inspection, did the completed work order and retest results get included?
Did the outside vendor send this month's report? Did it get filed? Who checked?
Files and records come from multiple sources, some are paper, and others are electronic. In a paper-based system, the only way to make sure they are all there is to manually check. And, with all of this, there is no way for an executive to look at those binders and know if they are complete or accurate.
Finding that records are missing or inaccurate during a survey has negative and potentially costly effects. Deficiencies need to be remedied quickly, often incurring overtime, rush charges, or other fees. There can be other costs to hospital reputation and quality of care.
With an intelligent digital document management system, records are organized electronically. Not only does this protect them from natural or man-made disasters, but also from being lost or forgotten. Electronic files stay electronic and paper processes are made digital. Instead of filling a paper form, scanning, and then printing a copy for a binder; the form is converted to an electronic workflow that automatically updates the compliance records. The system triggers alerts, for example, if only 35 of 36 monthly records exist and will tell you which one is missing. More importantly, the system will alert teams to issues before they go out of compliance. This is a gamechanger for hospital facilities teams.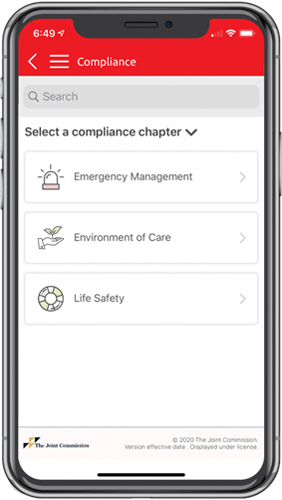 The system automatically gathers information directly from maintenance logs, so administrators, technicians and FM directors can spend their time on ensuring the safety and comfort of the facility, not on paperwork. A dashboard view lets everyone know if compliance documentation is up to date.
In the event of a survey, a crisis, or even just an operational meeting, records related to the facility, life safety, emergency management and the physical environment are just a few taps away on a mobile device, allowing instant decision making.
When the time for a compliance survey happens, peace of mind comes with well organized, complete documentation. A good health compliance management system conveys competence to the surveyor, and instills confidence in your team, setting the tone for a successful survey.
Conclusion
When you consider all these risks to the business and the cost saving efficiencies and mitigation gained, the COVID-19 crisis might be exactly the right time to invest in a facility management app.
Take Control of Facility Operations with Instant Access to Building Information
Request Demo